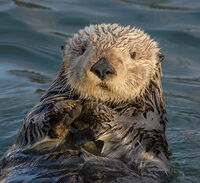 Running the Risk is the second book in the Shapeshifter series by Ali Sparkes.
The next book in the series is Going to Ground.
Dedication
Edit
For My Boys
With thanks to Andy Hinton and Mike Riley at the Hawk Conservancy Trust in Weyhill, Hampshire, for invaluable information. Also to Highcliffe Beach, Steephill Cove, and The Lizard-for being there.
Things to look forward to:
Hunting in the woods
Midnight feasts
Falling out with your best mate
Oh no...
Falling out with his mate wasn't exactly the start to the new term that Dax Jones wanted, but when Gideon's life changes, it seems that he's leaving Dax behind.
And as if that's not enough, everyone at school has started acting weirdly. Is Dax really the only one who can see their strange behaviour? Gideon thinks Dax is being paranoid, so what's the point of telling the staff - especially as it coulld be their experiments that are putting Dax and his friends in danger...
Dax's fox instincts have never let him down before - he has to trust them. But before he can help Gideon and the others, he must first overcome his own rising panic and learn more about his shapeshifting powers...